When your child reaches their late teens or early 20s, a third set of molars called wisdom teeth can start to erupt through their gums.
If the wisdom teeth are crooked, get trapped in your child's jawbone, or crowd existing teeth, pain and other oral health issues can occur.
Children's Dental of Waltham in Waltham, MA, uses gentle techniques to make wisdom teeth removal safe, comfortable, and stress-free.
Worried about the Cost?
Don't Be.
Insurance usually covers wisdom teeth removal. Our staff will be happy to check your plan. And affordable financing through CareCredit® is available to help manage out-of-pocket costs.
Why Is Wisdom Tooth Removal Necessary?
An Impacted Tooth
Our pediatric dentists,
Yelena Gutnichenko and Carmen Brambila
, usually extract a wisdom tooth because it is impacted, meaning the tooth is trapped under the gums or in the jawbone. This can be painful for your child.
Erupting at the Wrong Angle
If the tooth grows at an improper angle, it can put pressure on existing teeth and sensitive oral tissues, causing damage and pain.
Crowding
If your child's dental arch is too small, third molars could move existing teeth out of place.
Orthodontia Preparation
If your child needs braces, it may be necessary to remove wisdom teeth so they don't erupt and interfere with future orthodontic treatment.
Preemptive Dental Care
If x-rays reveal that your child's wisdom teeth will erupt incorrectly, removing them early may prevent painful complications such as cysts, sinus discomfort, gum disease, and cavities.
Impacted Wisdom Teeth Can Be Especially Problematic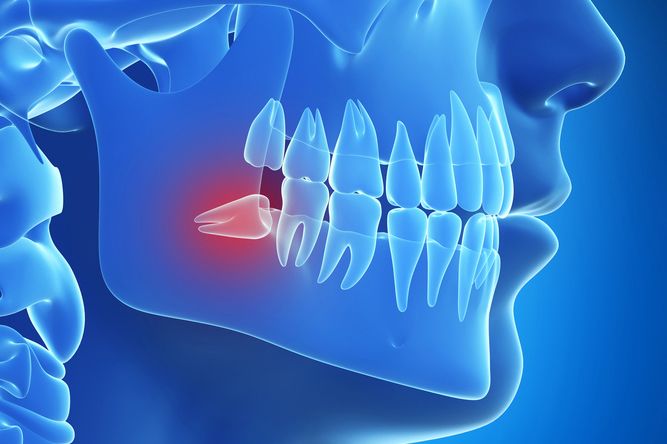 "Exceptional service and professionally friendly environment."
Exceptional service and professionally friendly environment. My whole family patronize this dental associates. I am a walking billboard for their business.
View on Google
Staff is awesome very friendly with my children and also caring. Kids and I feel safe with them and trust them very much... I highly recommend Children's Dental Center of Waltham.
View on Google
After treatment for a wisdom tooth, we recommend keeping your child home from school for three to five days.
Your child should rest for at least 24 hours after surgery and minimize any post-procedure physical activity.
There will be some post-extraction discomfort and swelling. Prescribed medication from our dentists can help.
Make certain they drink plenty of fluids but avoid straws as they can loosen blood clots necessary for healing.
Make sure they exercise caution when brushing to prevent aggravating the extraction site.