Timely Wisdom Tooth Removal Can Alleviate Pain & Prevent Complications
If your child is experiencing pain or other issues due to their wisdom teeth, our dentists can provide wisdom tooth removal. At Children's Dental of Waltham, we are focused on providing your child with the best possible experience. Our team specializes in pediatric dentistry and understands the unique needs of our young patients. We offer nitrous oxide sedation and can coordinate general anesthesia in certain circumstances to help your child feel comfortable and relaxed during their treatment at our Waltham, MA, practice.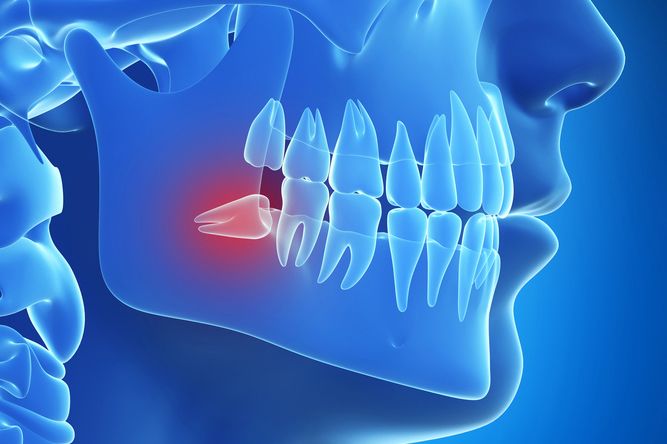 Third molars can cause serious issues when they fail to properly erupt.
Why is Wisdom Tooth Removal Necessary?
Wisdom teeth are a third set of molars that typically erupt in the late teens or early 20's. While some patients may not experience any pain or dental issues, others may require wisdom tooth removal for a variety of reasons. In most cases, wisdom teeth are extracted because they are impacted, meaning they are erupting at an improper angle, or because they are erupting in a way that will damage surrounding teeth and other tissues. Alternatively, your child's dental arch may be too small to accommodate additional teeth. Wisdom teeth may also be removed preemptively to avoid these issues altogether or to prepare for orthodontic treatment.
If your child is experiencing symptoms of wisdom tooth impaction such as pain or swelling, or if you are interested in discussing preemptive wisdom tooth removal, we are here to help.
Problems Caused by Wisdom Teeth
Wisdom teeth that erupt improperly can lead to a host of oral health issues including:
Development of a cyst
Sinus discomfort
Gum disease
Cavities
Our team can evaluate your child's bite to determine the best course of action to protect the health and aesthetics of their smile.
A Gentler Extraction Process
We understand that young patients may feel anxious about requiring tooth extraction, and our team is prepared to do everything necessary to help your child feel calm and comfortable under our care. We offer sedation to help your child feel at ease throughout their treatment. Our dentists also use gentle techniques for a patient-friendly experience.
Wisdom Tooth Removal Aftercare
After wisdom tooth removal, you can expect your child to experience some discomfort and swelling. Your doctor will provide you with prescriptions for medications to relieve those symptoms. You should also make certain that they drink plenty of fluids. However, straws should be avoided because they can loosen the blood clots necessary for healing. Additionally, your child should eat a soft food diet for several days. This may include:
Mashed potatoes
Smoothies
Yogurt
Rice
Sorbet
Pudding
Scrambled Eggs
Applesauce
Your child should rest for at least 24 hours and minimize physical activity after the procedure. We usually recommend taking three to five days off from school for recovery. You should also make certain that they exercise caution when brushing to prevent aggravating the extraction site.
Comfortable & Skillful Extraction
If your child is experiencing symptoms of wisdom tooth impaction such as pain or swelling, or if you are interested in discussing preemptive wisdom tooth removal, please contact us online or call us at (781) 899-7070. Our compassionate doctors can provide an expert recommendation and gentle, compassionate care.