Young children may not always practice proper dental care, leaving their teeth susceptible to cavities and decay caused by bacteria.
Dental sealants applied by Children's Dental of Waltham's pediatric dentists can protect your child's teeth from bacteria and decay.
How do our Waltham, MA, dentists use safe, trusted dental sealants to keep your child's teeth healthy? Find out more...
The Application Process Is Simple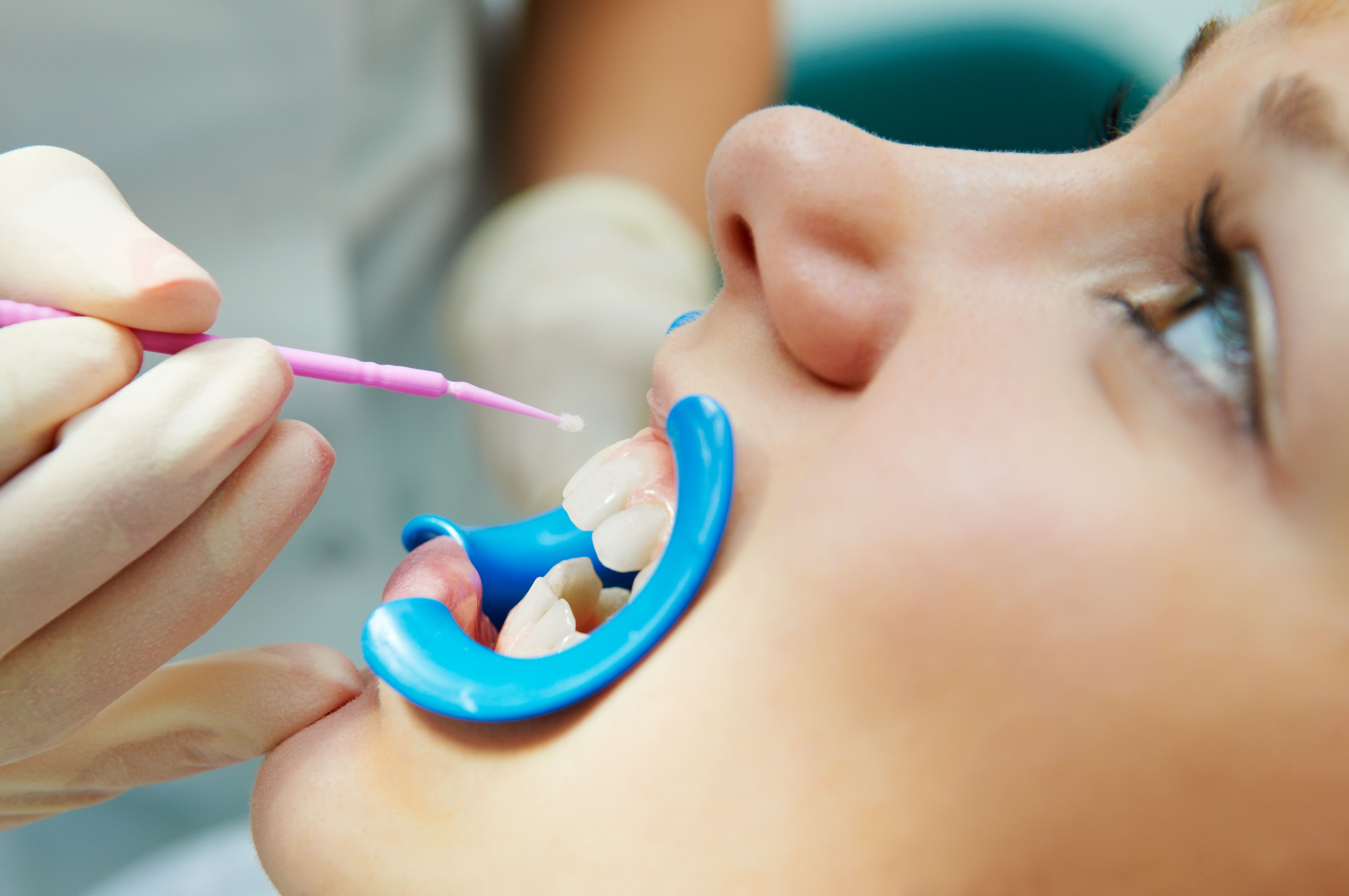 What Are Dental Sealants Made From?
Dental sealants are basically a type of safe, liquid plastic, made from restorative (composite) material.
Five Benefits of Dental Sealants
Dental sealants can have a significant impact on your child's oral health. Among their many benefits are:
Preventative Education
Applying dental sealants is a good way to teach a young one about the importance of preventive dentistry.
Affordable
The preventive treatment is usually covered by insurance, either partially or fully.
Protects Chewing Surfaces
Many teeth, especially back teeth like molars, have grooves on the chewing surface that can trap bacteria. Treatment from our experienced dentists can seal them to protect molars from damage.
Help Your Child Take the First Step
Towards a Lifetime of Healthy, Beautiful Smiles
The state of your child's dental health can have far-reaching effects for years to come. Helping them maintain good dental habits and attend regular checkups will encourage strong teeth, healthy gums, and a sense of confidence every time they look in the mirror. If you want to set your child on course for a lifetime of excellent oral health, there's no better time to start than now, and no better place to start than Children's Dental of Waltham.
From preventative treatment with sealants to emergency care, our dentists are here for all of your child's dental health needs. Drs. Yelena Gutnichenko and Carmen Brambila love working with patients from early childhood all the way through to young adulthood. They are excited to form a long-term relationship with you and your family to ensure your children receive the finest care and enjoy all the benefits of a healthy smile.
To request an appointment for your child at our practice in Waltham, MA, contact us online or call us at:
Waltham Parents Leave Us Wonderful Reviews
Thank God I found this clinic, my children are nervous when talking about the dentist but they are patient and make the children feel comfortable, understood as well with communication, as a mother it is a very pleasant experience to take my children to the clinic, the kindness of the staff and the Floricel Technique is exceptional!!!! Also something important, there is staff that speaks Spanish!!!!!Super!!!!!
View on Google
Have been coming here for the past 3 years since my daughter was one and the service provided by Florcel has made my daughter not be scared she actually enjoyes coming to get checked!!! Amazing service friendly atmosphere great dental place to come for children. Never a dull moment
View on Google
Why Choose Us for Dental Sealants Treatment
Our welcoming practice in Waltham, MA, is designed to meet the needs of younger patients and includes high-tech toys in our safe, clean play area.
Our team speaks many languages, including English, Spanish, Italian, Ukrainian, Romanian, and Russian.
Our motto is "A Gentle Approach to Little Folks," which means our staff does everything possible to put children at ease.
Drs. Gutnichenko and Brambila have many decades of top-level education and pediatric dental experience between them.
Are Sealants for Adults, Too?
Absolutely! Sealants can help patients of all ages protect their teeth from cavities. They are commonly provided as a preventative dentistry treatment at practices for older patients as well.
So although sealants are especially important in pediatric dentistry, they provide patients of all ages with years of increased protection against the bacteria caused by sugary snacks and food debris. Early intervention with a sealant can help your child avoid additional treatments to address more complex issues down the line, but this solution can help you, too. Don't hesitate to ask your dentist about sealants during your next visit!
Is Getting a Sealant Applied Painful?
You and your child can rest assured that there is no pain associated with placing a dental sealant. This is a gentle procedure that doesn't involve any potentially frightening tools, loud noises, or anesthetic needles. Your child's dentist will simply apply a thin layer of material onto the teeth and bond it in place with a UV light.
However, we know that receiving even the simplest dental care can be an intense experience for some young patients. As a practice that focuses exclusively on pediatric patients, we'll take the extra steps to ensure your child feels safe and comfortable with us. You will always be allowed to accompany your child into the treatment room to help calm and reassure them. If your child has a special toy or blanket that gives them comfort, you are more than welcome to bring it with you on the day of your appointment at our office in Waltham.
The Dental Sealants Process
Continue to Practice Good Oral Hygiene After Treatment
While dental sealants provide important protection against tooth decay, they are not a replacement for healthy oral hygiene habits. After receiving dental sealants, children should continue brushing and flossing regularly, paying special attention to the back teeth. Our dentists recommend that parents should buy their children toothpaste that contains fluoride to further prevent cavities and tooth decay.
Will Insurance Cover My Child's Sealants?
Because sealants provide necessary protection against tooth decay, they are almost always covered by dental insurance. We'll be happy to help you navigate your benefits and maximize your coverage during your visit to our Waltham, MA, practice.
We believe that every child deserves a healthy smile regardless of whether they are covered by a dental insurance plan. This is why we accept financing through CareCredit®, a lender that offers loans with little or no interest and flexible monthly payment plans that can keep your child's dental care affordable on virtually any budget.
More Five-Star Reviews For Our Practice
Exceptional service and professionally friendly environment. My whole family patronize this dental associates. I am a walking billboard for their business.
View on Google
Staff is awesome very friendly with my children and also caring. Kids and I feel safe with them and trust them very much...I highly recommend Children's Dental Center of Waltham.
View on Google